Show your support for Malheur Refuge and make a difference.
Personal Membership
Becoming a member is an important way to support the work of this Friends group.
As a Friends member, you gain the satisfaction of knowing your dues give us the financial support needed to sustain our mission of conserving, protecting, and appreciating the natural and cultural resources at Malheur National Wildlife Refuge through education, outreach, advocacy, and on-the-ground stewardship.
We support a variety of Refuge stewardship and special projects that need your support.  Experience the camaraderie of belonging to a community of like-minded Malheur Refuge enthusiasts by joining us today.
Member Benefits
As a member of the Friends of Malheur Family, you will receive:
Satisfaction of Supporting the Friends of Malheur and Malheur Refuge
Membership Welcome Package
10% Store Discount at Refuge Headquarters and Online
20% discount on special Members-only Crane's Nest Nature Store Online Shopping days
Malheur Musings, our monthly e-newsletter, and our year-end annual report
Invitation to annual Members Events and other special events
Early notification and registration to limited participant public events sponsored by the Friends of Malheur
Membership Levels
Select the right annual membership level that fits you:
Individual – $20
Family – $30
Donor – $50
Supporter – $100
Patron – $200
Steward – $500
Sandhill Crane Society – $1000 (see details)
Become a Frequent Flyer "Monthly Giving" Donor.
You can support the Friends of Malheur's mission all year long!
A monthly gift provides the Friends of Malheur with a source of regular, predictable funding we can use to guarantee the continued success of our stewardship and special projects, education programs, community events and Refuge advocacy efforts. Monthly giving through automatic credit card payments is convenient, secure, and simply one of the best ways you can support the Friends and the work we do. It's easy to participate. On the donation form just select a donation amount and then select – Make this a recurring donation.
Tribute and Memorial Gifts.
Honor a family member or friend.
A special gift is a meaningful way to celebrate an important person in your life. Friends of Malheur is grateful to receive gifts from those wishing to honor family and friends. It's simple. On the donation form just go to the Tribute section and provide the required information.
Own a business? Consider joining our Business Alliance.
Your support as a Business Member shows customers, associates, and your community that you recognize the importance of the Friends of Malheur National Wildlife Refuge's role in working with Malheur Refuge to achieve its mission – the mission of providing and protecting essential breeding, feeding and migration habitat for birds and other wildlife.
To join the Alliance or for more information:
Want to sponsor a Friends program or event?
A great way to support the Friends of Malheur is to sponsor one of our annual programs or events. If you are a business sponsor, it is also an excellent opportunity to gain prominent exposure and recognition with our members, donors and local and regional community.
For sponsorship opportunities, please visit our Program and Events Sponsorships page for more information: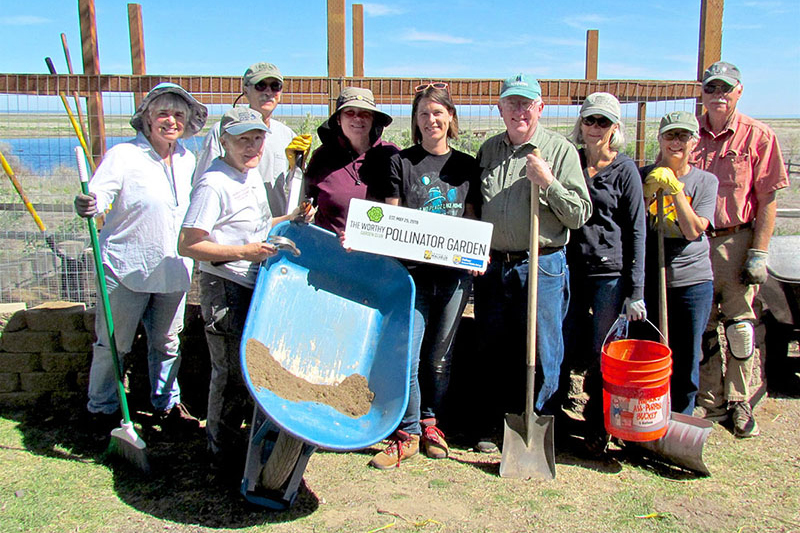 Join the growing number of volunteers that help create a better Malheur Refuge. Sign up to stay informed of upcoming volunteer opportunities.